Hybrid work, ahhh yes. Remember when the world was a simpler place? People have been saying that since the beginning of time. And I bet it was mostly related to getting things done, working, back then too.
The Hybrid Debate
Going into the post pandemic work world, the future-of-work has become today's work and everyone is talking, debating and embracing #HybridWork. And while hybrid between home and the office (most often labeled remote working) has become more important than the office only alternative, let's pivot the talk slightly to an even more important hybrid work topic.
As a tech industry executive leading the charge to flexible working, e-working and having spent my career involved with supply chains, I've had a front row seat to work getting done with a growing mix of non-permanent workforce capabilities. Permanent and many other connected workers together perform "hybrid" work.
Work Delivery Evolves from Permanent to Partners
I've seen us go from "The Reckoning" era of US/EU vs Japan/Asia automotive rivalry cultures to the latest Internet's global B2B Cloud App Exchanges. In that evolution the organizational management issues, solutions and technology associated with manufacturing products with supply chains has been innovatively applied to the delivery of work through all kinds of internet centric services delivery. And that includes the growing ability of business work/process automation delivered -as-a-Service – Huh? What? – Just check out the latest AI driven automation robotics (RPA) innovation that has hit the market, i.e. Automation Anywhere.
Work delivery used to look more like the first chart below. Work was mostly done by people who both the employee and the company employing them considered "permanent". Anyone who has been around a couple of decades has seen more and more of the permanent work be distributed to all sorts of partners – for lots of reasons, we won't get into why here – another whole article potentially.
Outsourcing Shifts
Searching to get very specialized work done and lots more of it done right away, now! drove work outsourcing. Especially when that work was not likely needed after the priority project was completed. At the beginning there were simply individuals doing the work, then suppliers-businesses such as staffing and solutions partners provided workers. Finally, the work was also given to workers who considered themselves a business. The workers-like-a-business needed and wanted and then got a progressive classification – independents. And we could so easily highlight that the world still mostly works that way where "gray or black market" regulations aren't changing nearly as fast as the platform marketplaces supporting them – ok, but that too is another article.
The Emergence of Tech Delivered Work-as-a-Service
The newer categories of Work-as-a-Service delivered with tech platforms have not even been well categorized or significantly appreciated until recently when the pandemic needed them. Even now it's still unclear what to call these work platforms, marketplaces? – as delivered by: Uber, Fiver, UpWork, eWork, 99Designs, Lyft, FieldNation, Guru, Lugg, Freelancers, Kudo, eTeki, and many more coming – what are they really? And more questions arise as people, society, departments of Commerce & Labor, financial markets, etc., try to better relate to how they will all advance working.
Typical Work Distribution Before: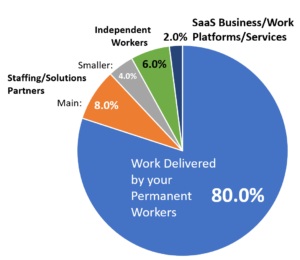 More Work Supply Chain Providers Today - and Growing: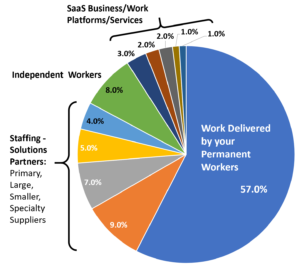 Note: the presented data and charts are for illustrative purpose only – not case or survey factual
Note that the scale of the charts is purposely shown to emphasize the difference of growing economics. Because of the overall afforded efficiencies from accessing tech platforms delivering global marketplaces of services supply chains, there is more that can be acquired for less spend than ever before. Simply, you can get more work services per dollar now than ever – but only if you know how to take advantage of such platforms and organize and manage around a supply chain mentality. And yes, that's even for help with getting your core or any work done.
Leveraging Outsourced Services Delivered by Intelligent Tech Platforms
So let's now focus on the newest and most dynamic category – delivering outsourced work services over an online intelligent tech platform. It's been less than a decade that services such as Uber have so changed the way we view a tech platform marketplace as significant to our modern way of life. In that time such services have gone from unimaginable to global, to delivering trillions of dollars of work commerce as they impact billions of lives regularly. And while Uber is the easiest for all of us to relate to when it comes to understanding such dramatic work delivery change, there are thousands of such internet services throughout the world now delivering work over the Internet.
Another great example of outsourced work services delivery is eTeki. eTeki is a tech interviewing-as-a-service marketplace platform where people can purchase an interview which combines subject matter expertise, convenience, flexibility, better performance, etc., for less than your organization could do itself. Companies can't employ all those experts to be on standby, awaiting performing interviews on short notice. However, an internet connected marketplace like eTeki's could – especially since it's designed to specifically deliver quality tech interviews on-demand.
The Ultimate Hybrid Workforce Strategy
So, how can these Work-as-a-Service (ironically funny naming it so, isn't it?) of so many disparate complimentary services be strategic after all? If you only look for the trees, standing alone on their own, it's not. But if you consider their make-up of the Forest, it emphatically is. What's so strategic is to view the collective as a way of working. 
Every business is looking to operate more efficiently, cost effectively and gain more flexibility. But – How? For a very long time great supply chains have provided the answer. The ability to efficiently outsource work over highly productive global reach platforms and to weave them into your own critical value accruing work is what's so strategic. 
Whether you are purposefully and intelligently pursuing it or not, hybrid work delivered as a supply chain is an answer. It's very strategic work.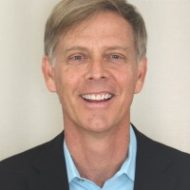 Hans Bukow, CEO & Co-Founder at eTeki
Hans Bukow brings 25+ years experience in founding and leading innovative venture backed enterprise software and Web companies. Hans is recognized for co-creating $3B+ software centric technology categories: Manufacturing Execution Software (MES), Professional Project Work Marketplaces-Exchanges, and Vendor Management Systems (VMS). His significant successes include FASTech (#22 Inc500) now Applied Materials Global Services, WorldPlay which sold to AOL and became Games Channel with EA, and eWork Exchange's cloned company eWork Group (EU-Nordics) that post IPO was valued at nearly $2B – see (EWRK:SS). Hans was last CEO and largest shareholder of Provade VMS which sold to SmartERP in 2018. Hans speaks four languages and 3 citizenships and is thought leader on the work from anywhere global future-of-work – eworking.