"That's bull. There's no pipeline problem."
That's how Bernard Coleman, head of diversity and inclusion at Uber, responded when asked at a June TechCrunch Sessions event whether the lack of gender diversity in tech was due to a shortage of qualified female candidates.
Still, despite well-publicized diversity efforts and many hiring managers being eager to bring women on board, female tech employees are outnumbered more than four to one at Google, Facebook and Uber. Sadly, average gender tech diversity is even lower.

Clearly, there's a big problem. Far too few female tech candidates are being submitted to hiring managers. In this post, we offer some suggestions for how technical recruiters can increase the gender diversity of the candidates they deliver.
Prioritize Gender Diversity in Sourcing
Coleman said that recruiters must expand their "playing field" to find where talent from underrepresented groups congregate. In terms of gender diversity, recruiters often aren't looking where women IT talent can be found.

He noted how it's important to set up relationships early with underrepresented groups, such as women. He pointed to Uber's recent university recruiting roadshow at historically black colleges and universities (HBCUs), Hispanic-serving colleges and women's colleges as an example.

Another great resource is the tremendous site HireMoreWomenInTech.com. It offers a list of more than 40 women's tech communities.

Plus, the site notes that it's important to write women-friendly job descriptions, and offers several great examples of how to do so. "Own the responsibility of actually getting the word out to the widest pool of candidates possible," HireMoreWomeninTech.com states. "If you're only getting male candidates, perhaps the problem lies with either how you're describing the position, or the pool of candidates who are actually seeing the job post. And of note: if you have an employee referral program, it may make sense to review whether it actually  works to get you a diversity of candidates (or violates US law)."
Two more good pieces of advice from HireMoreWomenInTech.com:
Track the gender of candidates, not just hires, as a metric, so that you can work to improve candidate gender diversity.

If possible, use female recruiters and sourcers who are committed to gender diversity efforts.
Make Interviews Female-Friendly
Oleg Vishnepolsky, Global CTO for DailyMail Online and Metro.Co.Uk, told a highly revealing story recently on LinkedIn. His company hired a woman—the wrong woman—because she had a similar name to the ideal candidate. A bad mistake, but despite being rejected based on her interview, she turned out to be a "great worker." Vishnepolsky said he asked her later about her interview, and "she simply said that we made her nervous."

His takeaway: "I do wonder how many people get rejected this way? Most people get nervous during interviews, by unfamiliar people and surroundings, by pressure of the interview and some of the questions that get asked. We need to make candidates comfortable and relaxed, but more importantly focus on the past track record."

We agree completely. It does strike us, however, that women could be disproportionately impacted by interview pressure given that tech teams are so male-dominated. The tweet below shows the problem well.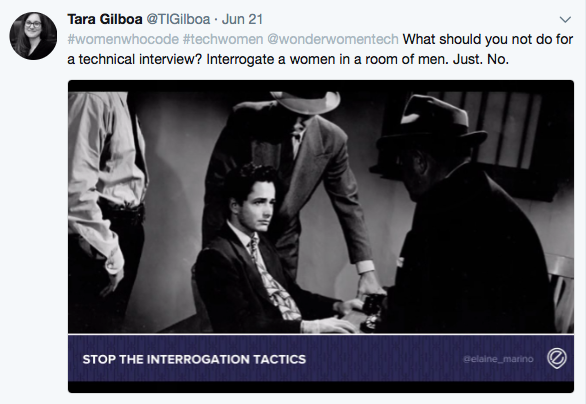 Here are some suggestions for making your technical interviews female-friendly:
Use video interviews.

Unfamiliar surroundings create nervousness. With video interviewers, candidates are less likely to have anxiety because they are in a familiar place, and not worried so much about how they're dressed.

Set expectations with candidates.

For example, if using video interviews, a female candidate might wonder why she has to be on video. Make it clear that the purpose is not to see what the candidate looks like, but so that the hiring manager can hear her accomplishments first hand, providing color and context to an otherwise bland resume.

Use a behavioral interview methodology.

Questions with right or wrong answers often make candidates nervous.

Behavioral interview questions

, on the other hand, relax candidates more because they allow candidates to discuss their past work experiences. Plus, they have the added benefit of being more valuable for determining whether candidates have the necessary experience for the position.

Work to ensure the interviewer or interview panel is not intimidating.

As the tweet presented earlier makes clear, don't use an interrogation style, especially if the interviewer(s) are men. And give some thought about how the interviewer(s) can connect or relate to candidate. The key is you need the interviewer(s) to be able to communicate with female candidates in ways that are comfortable yet professional, and that means the interviewer(s) need to be self-aware of their communication skills, both verbal and non-verbal.

Focus on the candidate experience.

All of the elements above play into the candidate experience, but this point is so important that it bears repeating. You're looking to create an

interviewing candidate experience

that not only enables female candidates to showcase their technical qualifications but also shows that your organization is one where they will be welcomed and valued.
We Can Do Better
The technical recruiting industry clearly can do more to increase gender diversity. And while the suggestions above won't fix the entire problem (likely far from it), by continuing to work to give more opportunities to women in tech, our industry can and will make a difference.