The success of eTeki thus far can be accredited to a collaborative effort of professional teams including advisors, marketing specialists, operations experts, development rockstars, and freelance technologists. One team in particular is very special and without them, eTeki wouldn't be where it is today. These select individuals make up our Technology Advisory Panel. These panelists come from different technical backgrounds and are experts in their fields.

Of those, we pulled another Tech Advisor aside to get to know him a little better. His name is Amrut Patil. Amrut, with over 12 years of experience and his passion towards technology, is an asset to eTeki's success.

Tell us about your professional history, how you got started in IT, and how you ended up where you are today.
I have been fascinated with the idea of computers since I have been in school. I still remember acing the BASIC programming in my school. So when I was choosing a major, I selected Computer Science without thinking twice. After graduating, I worked for Infosys, one of the largest IT companies in India. In the United States, I have worked with big telecommunication and pharmaceutical companies as well as startups. I have worked in every IT role in the traditional development life cycle but its technical roles are what interest me more. For the last few years, I have been concentrating on digital transformation by using new cutting edge technology to solve/improve day-to-day business processes/issues in an organization. These are small budget solutions with big revenue impacts.

What are your thoughts on the talent acquisition industry and how does eTeki fit into it?
Over the years, I have seen the amount of impact one bad recruitment can make on a(n) team/organization. So hiring the right talent is one of the most important things for an organization's success. But, that requires a lot of time and effort. Plus, there is always the issue of having the right talent on either side of the table for that position. This is where eTeki perfectly fits in. eTeki solves all these problems and it saves a lot of time and effort for your organization.

Have you ever been a thought leader in the past? What excites you about being in a leadership position at eTeki?
For the past decade, I have been in many leadership positions. I led the tech effort for one of the Verizon verticals for spinning of IT systems into two systems during Verizon Spinco spin off. That turned out to be very successful with no revenue loss from our vertical for Verizon. In Comcast, I was able to work for Infosys with fierce competition from other established vendors. When I started, it was only a two member team and when I left the team was filled with over 20 members. In my current role, I get to use latest technologies to solve or improve day to day business processes and problems. These are not multi-million dollar projects but, with minimal budget, it helps the company save money and generate lot of revenue, which is amazing.

eTeki solves one of the most important problems faced by IT industry today. My current participation in eTeki gives me an opportunity to help solve talent acquisition issues which even I have had to face in the past. I hope to contribute to the effort of developing a model to conduct fair, objective interviews.

Due to your 12+ years of experience in the IT industry, you must've been through many interviews. What was your best interview, and what was your worst?
One of the best interview experiences I've had was a couple of years ago with AmerisourBergen. I spent most of my day with meeting the team. It was a very friendly and casual discussion. The focus of the discussion was based on the concepts and my thought processes and for them to see if I knew my technology basics. There were a few interesting problems that were discussed to see if I can think outside the box. It was such an amazing experience that I continue to work with the same team to this day.

One of the worst interviews I have had was with one of the big banks in U.S. I was given a problem and asked to find solution for it. When I solved it, the interviewer was not happy because I hadn't solved it exactly the way he wanted. I had to convince him why my algorithm was better than his. It looked like the team was used to doing things a certain way and they were not open to any new approaches. As expected, I declined the offer after clearing the interview.

Tell us where you see eTeki going in the future.
I was very impressed when I heard about eTeki's idea. This is the problem every company is facing day in and day out. I am sure eTeki is going to be quite successful in solving this recruitment issue for the industry. I am also sure that it is not only the technology field that faces this issue, there must be other industries that are facing  the same issue. There is huge potential for eTeki to tap into this unexplored market.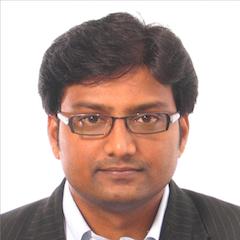 Amrut Patil is a seasoned software development professional with over 12 years of experience in designing and building architecture around mobile applications. Amrut has worked across different technologies and different business verticals. He is passionate about learning new technologies.
We are lucky to have him here with us and are very excited to see the successes his leadership will bring to eTeki.