eTeki's recent expert roundtable unearthed some surprising and innovative ways to deal with new challenges presented by Covid-19. Here I share some personal experiences of living through this unique time, as well as some of the panelists' most important recommendations to make the best of this unique time, as well as avoid some of the potential pitfalls in your own organization.
1. Transform How To Celebrate Accomplishments and Milestones
Diane Valenzuela Allen of Ultimate Software recognizes the importance of celebrating milestones to keep teams socially connected and motivated. Her software company already had 50% remote employees before covid-19, and was very adept at working in a virtual environment. Before the shutdown, her teams would regularly celebrate individual and team accomplishments as well as personal milestones (such as having a child or getting married) together with in-person events. Their teams work hard, so they make sure to try to bring the fun to the work environment.
They recognized right away that many of their employees were not working in a normal remote environment, and were dealing with new challenges such as caring for children. In addition to regular team check-ins and normal one-on-ones, their teams have taken physical events like happy hours with food trucks and turned them virtual. For their new virtual happy hours, they would ship boxes with goodie bags to participants in advance. This helps with engagement and keeps things fun and different, so it doesn't end up to be just another Zoom meeting.
2. Rethink Corporate Social Responsibility
Tyrone Smith's organization Ryan used to regularly pull teams together to give back, bringing them together for a common mission. For the last 29 years, they have done a day of service where they typically go out into the community and give back. This year they've transformed their community service day to a virtual experience, as well as shifting into more skill-based giving versus episodic giving.
3. Create Opportunities for Socially Distanced In Person Meetings
Sam Velu and our team here at at eTeki look for ways we can hold small face to face meetings in safe environments where social distancing is possible, such as outdoors in a park. Depending on local regulations, it may be possible to hold meetings with small groups in well ventilated areas where appropriate distance can be maintained.
4. Systematize Mentoring
Mentoring is a valuable way to build skills and relationships in an organization, but when team members are not physically together, it can be difficult to create and sustain mentoring relationships. Yet when people are experiencing social isolation, building these relationships is more important than ever. Diana's organization is rolling out a formal mentoring tool that will facilitate this important activity. Providing guidelines and programmatic support for mentoring within your organization can ensure everyone gets the most out of it.
In addition to building skills and furthering careers, virtual mentoring can be an effective way to prevent feelings of isolation and loneliness during this time by providing a safe space to discuss feelings and concerns.
5. Reinvent Corporate Learning
With travel restrictions in place, companies are not able to take advantage of their in person training teams. Employees often don't have time for extended training sessions, and adding more Zoom meetings to an already packed schedule can be exhausting. Yet it's important to continue to invest in your training budget, and this can be a great time to build organizational skills.
As a result, it's important to evaluate your organization's corporate learning initiatives, and find new ways to effectively and efficiently deliver content. In many cases, consuming learning in smaller bits and pieces fits much better into a virtual environment. At the same time, a more flexible environment can create a fantastic opportunity to upskill team members, such as working on achieving technical certifications. Be sure that learning opportunities can adapt to new needs and work schedules.
6. Adapt Skill Development
It's important to look at how the skills your team currently possesses may need to evolve in a new virtual environment. Rose Schamberger's organization, Front Door Home, includes some departments who already have experience working remotely, but other groups that are doing it for the first time. As a result, the challenges they face and the skills required are different.
For example, software engineers may not be able to communicate effectively in virtual meetings, although they may be more comfortable working independently in a remote environment than, say, your call center teams. Remote work often needs to be more asynchronous, which is something that many people need to learn.
Rose's company has actually experienced a bump in productivity, which she attributes partly to the fact that people may be working longer hours at home. This is something they have to pay attention to since it is one of the main drawbacks of remote work besides the social aspect.
7. Build More Diverse Teams
One common trend our panelists all brought up is the fact that while it's still just as critical as ever to ensure that teams fit with your organization's culture, the new remote environment means that there are often fewer employee relations issues. A less than perfect fit with team culture is not as important compared to company culture. Unconscious bias is also less of an issue when people are not interacting face to face.
This provides a great opportunity to work on building more diverse teams. Virtual organizations have more reach across and even outside the country, and it can be easier to recruit and promote people with diverse backgrounds. This can be a great time to look at platforms for hiring women who are coming back into the workplace, veterans, and other diverse groups.
8. Leverage the Entire Continuum of Talent
It's important to look at how your organization can fill skill gaps by utilizing the full continuum of talent, which includes not just full-time and contract workers, but crowdsourcing talented professionals, looking to external partners and exploring human machine partnerships.
Leveraging a variety of talent sources gives organizations maximum agility and flexibility. As Bala Nemani, "It's important to invest in core skills on your team, but also to reach out to the global pool of tech skills available through the gig economy." He went on to mention that he's seen an increase of demand for extended teams at his IT staffing and solutions company, Amzur Technologies.
9. Pay Attention to Mental Health
It's well known that social isolation causes an increase in mental health issues, and even though many employees are able to spend more time with their families when working from home, the new environment brings new challenges to well being. Even if employees have vacation time, they may not be able to travel or do community activities that they used to do in their leisure time.
Even in a tech environment, it's critical that the human element still remains. Make sure to communicate to your teams about the need to take personal time off, and provide creative ideas for them to practice self-care.
10. Re-evaluate How You Assess Performance & Productivity
As most employees have much less face time with their superiors, it's more important than ever that team and individual performance is assessed based on results and outcomes. Measuring hours worked is not only more challenging, it is less relevant in this environment.
Now is the perfect time to really look at the measures your organization has in place to measure productivity levels, and adapt them as needed.
Position Your Organization for Future Leadership – Like during most times of transformation, this sudden shift to remote work presents many challenges as well as many opportunities. The organizations who are able to not only weather this storm, but actually look for new ways to thrive and grow will be the ones that come out ahead in the end. These innovative leaders in their industries were generous enough to take the time to share their own lessons learned and creative ways to navigate the new normal with us so we all can benefit.
Click here to watch the replay of eTeki's Virtual Roundtable on Covid-19's Impact on Technical Hiring.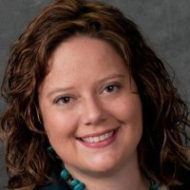 Amanda Cole, Vice President at eTeki
Amanda Cole has more than 15 years experience developing innovative programs staffed by non-traditional workforce's including freelancers, paid & unpaid interns, boards of directors, special event volunteers, and skill-based volunteer programs. The annual value of services rendered for the largest programs exceeded $18M. She is a communications professional with a superior facilitation and training skills, an engaging public speaking presence and a fanatic about synergistic business relationships.