9,000+ attendees. 430+ vendors from all over the HR, talent acquisition, employee engagement, etc. spectrums. What were the big tech takeaways from HR Tech 2018?
The seemingly "must have" product feature…
… is some degree of AI. Over 76 different booths promoted that they use AI. In many cases, the AI being referenced is a more effective scheduling tool (which is the level of scale AI is currently at too many), but still, AI dominated the day. It's interesting to note, however, that a panel on the final day about AI and bias concerns had over 350 attendees in a relatively small space — and while other panels and demos were going on. Many are concerned about increased bias from increased tech use. That's an issue which is not going away.
Time is both (a) money and (b) of the essence
One of the other major themes of vendor booths was saving recruiters time, which makes a lot of sense — we've seen stats that 65% of a recruiter's time is used up with top-of-funnel logistical activities, i.e. interview scheduling. And as Josh Bersin pointed out in one of his recaps of the event, everyone is more busy/slammed than ever, and that's driving some of the investment you're seeing from executives. Namely, there's a commitment to wellness programs and a commitment to programs and processes which can free up people once in a while.
Video interviewing continues to be a hit
In addition to some platforms solely focused on video, video interviewing capability is increasing being baked into new suites that previously didn't have it. We heard from many decision-makers that their hiring managers substantially prefer video over standard means of interviewing, especially for distance candidates where flight + hotel might be prohibitive to the type of role.
HR platforms need to be baked into how people already work
One increasing criticism was that too much HR software forces employees to navigate to new sites, instead of being baked into the tools they already use like Facebook Messenger, Slack, Google, Trello, etc. We need more integration of the tech for more full-scale adoption and a reduction in "Oh, that's an HR thing."
An increased need for training
Bersin told a story in his Thursday morning keynote with Arianna Huffington and Jennifer Morgan of SAP about how, as a young employee in the late 1970s, he used to sit and read technical manuals to learn the business better. Now? Employees report having about 24 minutes per week to learn. Learning/training solutions will always be a "nice to have" from a budget perspective, and even more so if budgets are tight, but with increasing discussions about "the skills gap," we need to find that learning bridge for continuous employee life cycle development.
The hiring manager-recruiter relationship isn't improving quickly
Not so much of a tech play but a general trend amongst the numerous discussions was about the flaws in the standard hiring manager-recruiter relationship, including job descriptions. Oftentimes hiring managers will attach the word "senior" to a role even without a substantial pay increase just as an effort to "game" the system and get better candidates. There is a lack of clarity, trust, and overall communication between the two worlds, and the TA professionals on hand often said it's getting worse before it gets better.
Did you attend HR Tech 2018? What were your takeaways? Tweet us your thoughts @eTeki_Inc!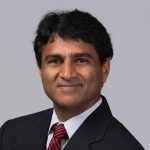 Bala Nemani, Founder of eTeki
Founder of eTeki and IT Solutions Executive with a passion for getting "candidate to role" fit right 100% of the time.