March Madness is quickly approaching.  Selection Sunday is March 11th and the actual NCAA Tournament begins on March 15th.  As a talent acquisition professional, you're probably wondering why you should care.  Well, the NCAA Tournament is one of the greatest sporting events in America. 68 teams get in, and one loss means you are out. Eventually, one team will win six times (six straight games) and be the champion.
Now, most of us know the story of David and Goliath; heck, Malcolm Gladwell just wrote a book centered around it. There are always going to be amazing teams and…not so amazing teams — but remember, all that matters is that one loss.

Each "regional" of March Madness is seeded 1-16, with the 1-seed (the best team) playing the 16-seed (the worst), the 2-seed playing the 15-seed, and so on.  A 15-seed has actually beaten a 2-seed eight times in NCAA Tournament history.  The 'best' teams don't always win.  That's the first tier of how all this relates back to business.  The entire format of the Tournament is akin to the modern business climate; what is disruption? Well, it's upstarts beating established teams with more access to talent and tools. The NCAA Tournament personifies disruption.  But what about the world of talent acquisition?  How does that apply?
Building your bench
There's been an argument/question for years among sports fans about the importance of star players in the NCAA Tournament.  In 2003, for example, Carmelo Anthony was the main star for Syracuse — and he essentially carried them to the championship.  Most championship winners have 1 or 2 stars, (NBA prospects most likely).  But stars have off-nights, and as a result, having a deep bench is crucial.
Consider that Carmelo Anthony example: in the Sweet 16 round, Syracuse played Auburn — and almost lost.  Anthony had an OK game, but a player named Josh Pace came off the bench and scored 14 points, carrying Syracuse to a victory.
The bench is important.
This is a massively important concept to remember in TA as well: you must build a bench.  It impacts ideas like succession planning, yes, but it's more than that.  In the immediate, as business models potentially change, you need talent capable of stepping up when the A-Players aren't in the know on a certain issue or client.
Keep your talent hyped
Every year at the end of March Madness, CBS — which televises it — plays a video called "One Shining Moment."  It's a music video, set to a song by Luther Vandross, that highlights the best moments of the Tournament.  This video has been produced for decades now, and if you go back and watch multiple versions, one constant is how excited the teams are when games are close — or when underdogs win.  Now, think about standard TA hiring processes. Would you use the word "joy" to describe them?
This is the second lesson of the Tournament, for me: you need to keep your top talent hyped during the interview process. You need to get them (and keep them) excited about working with you. That involves:
Salary (hooray!)

Culture (yippee!)

Management (wow!)

Scope of project (so vast!)

Ability to work with specific teammates (go us!)
See? That kept you hyped.
To say that hiring processes can become underwhelming is an understatement.  Candidates want (and need) a reason to be excited.
Don't rely on expectations
You never know what's going to happen.  In 2006, an 11-seed (George Mason) advanced to the Final Four for the first time ever. They beat a team that was seemingly stacked with future NBA players.  It was a true David and Goliath story that no one could have predicted (and no one had attempted to.)  So, how does that apply to Talent Acquisition?  We know that we can't predict outcomes, sometimes a great candidate falls through the cracks.  The best way to avoid losing out on additional option, is to make sure you HAVE options.  That's why we all do this, right? To get the best people (or person) to fill the positions that WE need them for?
It should be.
This doesn't mean you shouldn't set expectations with your candidates.  The issue is relying too heavily on the anticipated outcome, as opposed to making sure you have multiple options to help avoid as many obstacles as possible.

And if you ever doubt why you need the best people instead of "the currently available people," watch any upset-minded game of the NCAA Tournament.  When everything is close to collapse, having the best people in the right roles will save you.  That's true in an office park and on a basketball court – and that could be the biggest lesson of the NCAA Tournament for us TA professionals.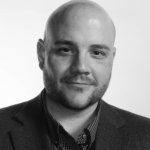 RYAN LEARY, Partner, RecruitingDaily
Ryan creates the processes, ideas & innovation that drive RecruitingDaily.  From Demand Gen to Integrated Marketing and HR Tech, he is your man.
@ryanleary
https://www.linkedin.com/in/ryanleary/