There's an age-old problem facing organizations which is only getting worse in today's tech dominant world. It's the quality vs quantity tradeoff. IT departments increasingly are asking for scalable solutions to determine technical candidate suitability, and the tools TA departments have historically utilized are limited to eligibility or only scratch the surface of understanding suitability.
Numerous complex factors now need to be assessed
Hiring today is a complex and daunting task. It's no longer enough to choose a candidate based on experience and skills. Organizations are fully aware of the high cost of a bad hire, and the best are sure to evaluate candidates across a number of areas, such as cultural fit with the organization, communication, personality and ever increasing number of other "soft skills".
To top things off, credentials and background need to be verified for accuracy, as resume embellishment (if not outright fraud) is all too common. Mervyn Dinnen, HR Analyst & Influencer, recently outlined alarming stats indicating a prevalence of lies and exaggeration at 80 to 90% of resumes as reported by CV Library, Monster and Risk Advisory Group.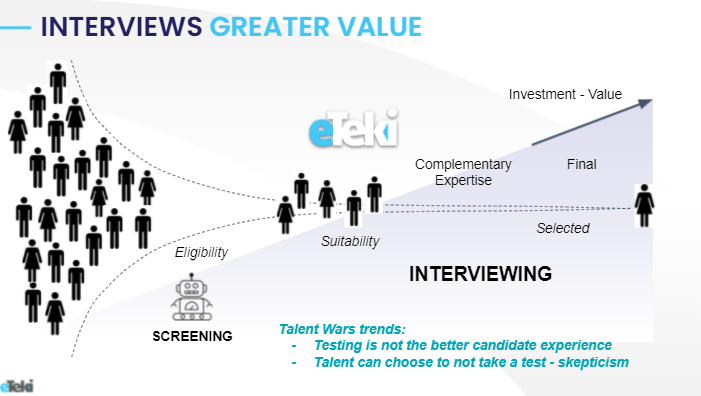 Low investment screening gauges eligibility
The first step in evaluating a candidate is to determine eligibility through screening. Recruiters look to check boxes like the following:
Do they meet the most basic and necessary requirements for the position?

Any bona fide occupational qualifications required can be validated? 

Does their resume indicate experience with necessary skills for the role? 

Is their education sufficient? 

Do they possess the required credentials and certifications?

Are factors present which could lead to a more binary resolution?
This stage is where non-technical members of the hiring team review and speak to candidates in order to make decisions on which automated screening and/or assessment to invest in. Given the simplicity of technology to assist with screening steps, it often happens quickly and economically. Scaling the screening process is relatively easy and generally does not require a large investment although hundreds of IT candidates (thousands depending on company size) cycle through the wider hiring funnel.
Higher investment interviewing gauges suitability
The next step in the candidate evaluation life cycle determines suitability. This step often proves more challenging and complex, and it's an area where automation frequently falls short. In most cases, interviewing (face to face, virtual or hybrid) is the trusted way to gauge suitability. However, because interviewing is more resource intensive, it can often become a bottleneck. Usually this process involves a series of interviews with various stakeholders that need to be performed consecutively, frequently creating scheduling and other logistical complications.
Despite a shortlisted pool of applicants, determining suitability requires a much greater investment particularly by revenue-facing employees. Hence, the conundrum of scaling interviews while assuring quality isn't sacrificed due to the ever-increasing demand for more IT hires (i.e. More Interviews!).
How are companies leveraging technology to determine eligibility and suitability today
As the candidate moves along through the hiring process (reference the diagram), an organization's investment in the candidate grows, therefore the earlier an unsuitable candidate is identified, the better. The reality is that automation is more suitable in the earlier stages of determining eligibility. While all of these tactics have their place in the hiring process, there are pros and cons to each. Which best suits one company may not work for another. Look out for a series of articles on each of the approaches.
Automated Assessments

Coding Challenges & Platforms

Asynchronous Video Interview Platforms

Outsourced Interviews
Hypergrowth IT departments turn to eTeki hybrid interviews for scalability
We're entering into a period today where technology and flexible work models can be leveraged to solve the scalability challenge of hiring. Remote and virtual interviews have now been normalized due to the Covid pandemic. Interviewing-as-a-service models such as eTeki's allows the interviewing function to scale up without sacrificing quality or candidate experience. Using a service like eTeki's can prove particularly valuable in the early stages of determining suitability before the organization's investment in a particular candidate quickly snowballs. 
An interview service allows an organization to leverage a hybrid work model to extend resources and provide the consistency of asynchronous interviewing together with the candidate preferred human connection of face-to-face interviews. Ultimately this is the solution to the challenge of scaling up the hiring process without sacrificing quality in the process.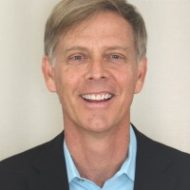 Hans Bukow, CEO & Co-Founder at eTeki
Hans Bukow brings 25+ years experience in founding and leading innovative venture backed enterprise software and Web companies. Hans is recognized for co-creating $3B+ software centric technology categories: Manufacturing Execution Software (MES), Professional Project Work Marketplaces-Exchanges, and Vendor Management Systems (VMS). His significant successes include FASTech (#22 Inc500) now Applied Materials Global Services, WorldPlay which sold to AOL and became Games Channel with EA, and eWork Exchange's cloned company eWork Group (EU-Nordics) that post IPO was valued at nearly $2B – see (EWRK:SS). Hans was last CEO and largest shareholder of Provade VMS which sold to SmartERP in 2018. Hans speaks four languages and 3 citizenships and is thought leader on the work from anywhere global future-of-work – eworking.